IIIT Bangalore holds annual workshop Web Science for Development (WS4D 2023)
Bangalore, 21 March 2023: The International Institute of Information Technology Bangalore (IIITB) premier technology institute in Bangalore hosted Web Science for Development (WS4D 2023) workshop which saw professionals from several domains, addressing different thematic concerns pertaining to the use of web and mobile technologies in developmental efforts.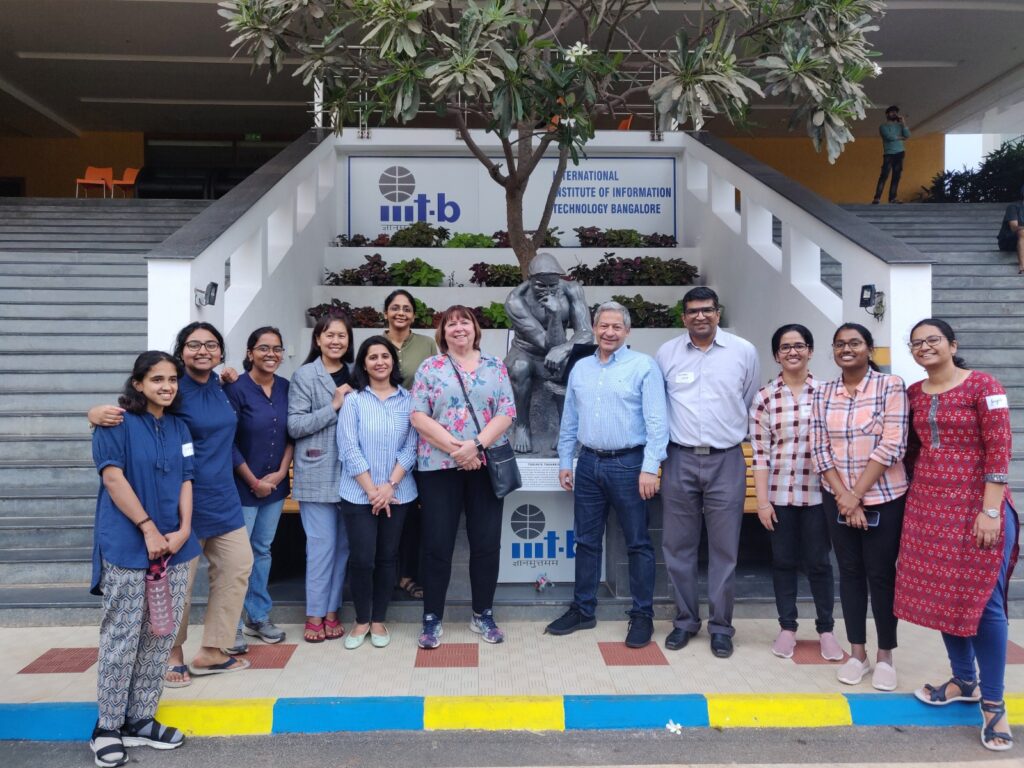 The aim of the workshop was to foster a community of practitioners, researchers, entrepreneurs, students, and policy makers to jointly address socially relevant opportunities and challenges from the web and mobile technologies. The theme of this year's WS4D workshop was sustainable development and digital capabilities.
Speaking about the workshop Prof. Srinath Srinivasa, Dean (R&D), IIIT Bangalore, said,
"The Internet and the World Wide Web have brought about massive changes, that have challenged conventional worldviews about almost all aspects of our lives. Thanks to the web, we no longer think in the same way we did, about education, governance, business, media, entertainment, and just about anything else. Web and mobile technologies have enormous potential to address the developmental needs of large countries like India, and there is a pressing need for suitable models for helping us understand how to achieve this. The WS4D workshop series aims to create an interdisciplinary dialogue between different stakeholders to jointly work towards this vision."
On the first-day keynote address was delivered by Prof. Dame Wendy Hall, Executive Director of the Web Science Institute at the University of Southampton. On the second day, Prof. Noshir Contractor, Jane S. & William J. White Professor of Behavioural Sciences (McCormick, SoC, Kellogg) delivered the keynote address. He said, "Web Science underscores the critical importance of addressing the study of the Web as an inter-discipline. The Web is far too critical to our societal well-being to be left to any one or even a few disciplines. If you are an undergrad and want to solve the world's problems, you might be well served to get a degree in Computer Science. But if you decide not to get an undergraduate degree in Computer Science, you might be well served by going for postgraduate studies in philosophy, law, or the social sciences – to solve the problems computer science is creating in the world"
Advances on the Web continue to evolve with Generative AI and Large Language Models such as ChatGPT being the latest. One of the lessons we have learned from the history of technology is that the hype around these technologies leads us to overestimate, for better and for worse, the effects of these innovations in the short term. And simultaneously, we underestimate their societal impacts in the long term, added Prof. Noshir.
Mr. Srikanth Karra, Chief Human Resource Officer, Mphasis, a leading IT services and solutions provider, who had powered the workshop as part of their CSR initiative to setup the CoE for Cognitive Computing at IIIT-B, commented, "Our partnership with IIIT Bangalore has been valuable in driving our shared mission of leveraging cutting-edge technology to positively impact society. The WS4D workshop is a testament to our commitment to encouraging dialogue and knowledge exchange between academia and the industry. The platform creates a coalition of hundreds of bright minds who come together to work towards the common goal of developing greener technologies for a sustainable future. It was an honour for us to host renowned scientists such as Prof. Dame Wendy Hall, researchers and scholars who provided invaluable information on the use and impact of web and mobile technologies in the development of today's society. Through this collaboration, we aim to create insights into the effects that the internet and the world wide web have on how we see the world and its effects on how we design solutions to our shared problems."