Elista enters the chest freezer category with the durable, best-in-class new range with 100 to 500 litres capacity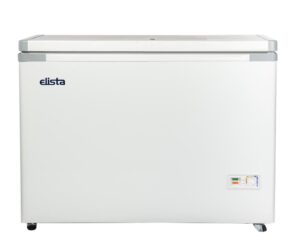 New Delhi, April 24, 2023: Elista, India's leading manufacturer of electronics, home appliances, IT & mobile accessories brand has announced the launch of its chest freezers. These chest freezers have a durable design, higher cooling capacity and extra large capacity to cater to all needs.
The Indian chest freezer market in the country has been expanding at a rapid pace. Estimates peg that the market will continue to grow with a CAGR of 5% and will touch Rs 1.650 crore by 2025. Elista aims to capture a significant share of this growing market through its new offering targeted at value-conscious customers.
Commenting on the launch, Pawan Kumar, CEO of Elista, said, "At Elista, we are constantly exploring newer categories where we can make a meaningful impact. We started our India journey with the launch of the dishwasher category and have successfully disrupted the segment with our value-for-money feature-packed offerings. We hope to replicate the same success with our range of chest freezers, designed according to Indian climate and consumption patterns and offer efficient and uniform cooling."
Elista has introduced variants of chest freezers in following capacity: Convertible Chest Freezer (100/200/300/500L), Combi Chest Freezer (300/400/500L) and Visible cooler (200/300/400/500L). These high-capacity freezers will be ideal for storing frozen food and beverages and keeping them fresh for long hours. The consumption of frozen food has increased many folds in the last few months. Families and households can easily use these deep freezers to store their entire month's supply. They can also be used by commercial shopkeepers, restaurants and retail chains to store frozen items, meat, ice creams, beverages and other things.
Maintenance is another important aspect that people consider before purchasing a chest freezer. To address this, Elista is offering a one-year warranty on all its freezers, and there is a three-year warranty on the compressor. These chest freezers deploy state-of-the-art technology, which results in frost-free uniform cooling and low electricity consumption. Elista chest freezers are equipped with multiple temperature settings that ensure the food remains fresh for longer. Elista deep freezers are also easy to clean and have tons of safety features and price ranges from Rs 41,999 to Rs 54,999.
Aligned with the government's Make In India vision, Elista has also set up a state-of-the-art manufacturing plant in Andhra Pradesh. The company will be investing Rs 250 crore in setting up a 1,32,300 square feet facility that will be operational by the first quarter of 2024.